Are you planning your next adventure and wondering how to maintain effortless modesty on the go? As you fill up your suitcase, consider packing the perfect travel companions from Syeeds Boutique's collection. Our handpicked hijabs not only accentuate your style but also prioritize comfort, even during those long-haul flights or sunny explorations.
1. Ready-To-Wear Instant Hijab:
Drape yourself in elegance, even in the most unexpected of places. Our Ready-To-Wear Instant Hijab, designed especially for those on-the-move moments, ensures you're always prepared. Be it a quick prayer during a layover or just a desire to feel wrapped in modesty, this hijab comes to your rescue. With a generous drape of 48 inches in the front and 52 inches at the back, it offers impeccable coverage in line with Islamic tradition. The pull-on style means no fuss, no hassle – making it ideal to wear, even in confined spaces like an airplane seat. Crafted from soft, stretchy jersey, it promises utmost comfort. What's more? It fits effortlessly, thanks to its free size, and is available in a myriad of colors to complement your abaya dress or any Islamic fashion attire.
"I never travel without my Ready-To-Wear Instant Hijab from SyeedsBoutique. It's a lifesaver during transit prayers!" – Aisha M., Frequent Flyer
2. Large Jersey Hijab – Front Covering:
Seeking something versatile for both home and travel? This piece is a quintessential addition to every Muslim woman's wardrobe. Measuring a generous 75 inches in length and 33 inches in width, our Large Jersey Hijab offers extensive coverage, gracefully wrapping around your head, neck, and bust area. Made from our signature soft, breathable jersey fabric, it ensures you stay cool and chic, even in those scorching desert cities or humid coastal towns. The most noteworthy feature? Its design eliminates the need for clips or pins, promising a smooth, hassle-free wearing experience. Plus, with an array of colors to pick from, you can match it seamlessly with any ensemble.
"The Large Jersey Hijab is a game-changer. I wore it throughout my trip to Dubai, and it was an absolute breeze. No pins, no slips, just pure comfort!" – Zainab H., Travel Blogger
3. Modal Hijab – A Sustainable Choice: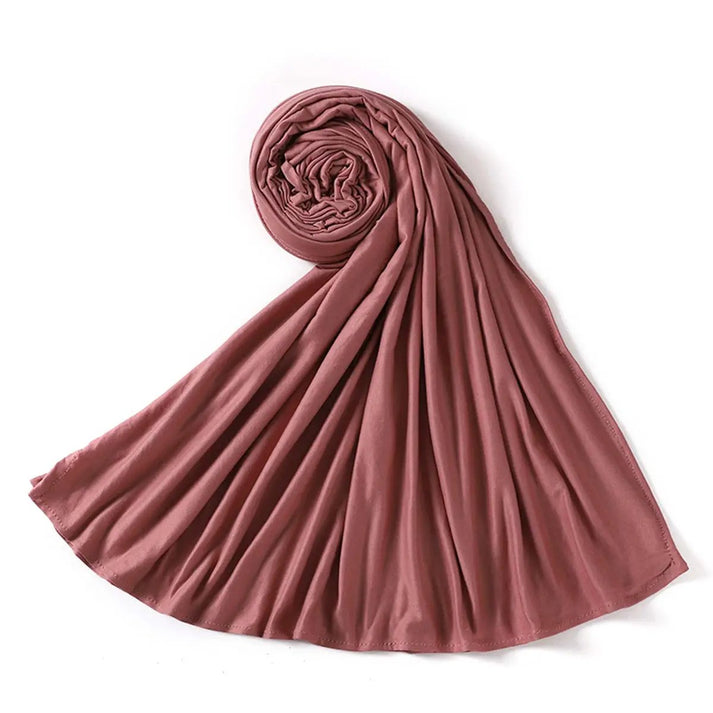 Elevate your travel attire with a touch of sustainability. Our Modal Hijab, crafted from eco-friendly, plant-derived fabric, champions both style and the environment. Light as air and incredibly breathable, it's the perfect companion for any climate, be it the cool streets of London or the balmy beaches of Bali. The 68x29-inch design offers a world of styling possibilities, ensuring you look your modest best. Being constructed from soft jersey, this hijab, like our other selections, can be easily folded, taking up minimal space in your luggage – a true traveler's delight.
"Traveling responsibly is my mantra. The Modal Hijab from Syeeds Boutique not only looks gorgeous but aligns with my sustainable choices. It's a win-win!" – Fatima R., Eco-conscious Globetrotter
As you embark on new journeys, let Syeeds Boutique be by your side, ensuring every step you take is wrapped in grace, comfort, and style. Explore our collection today and discover why our hijabs are every traveler's must-have.